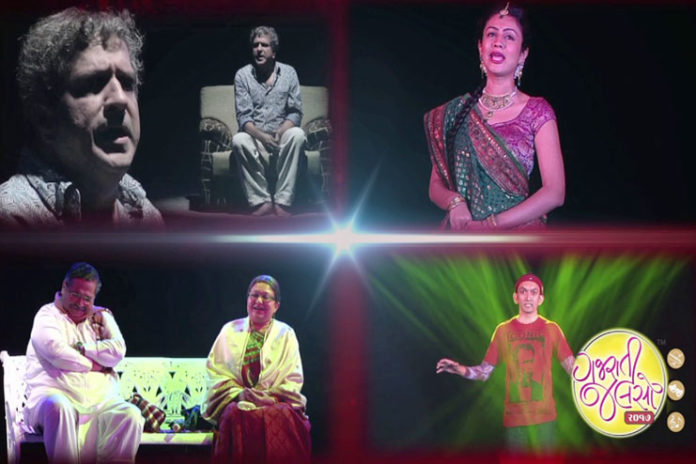 One of the biggest Gujarati musical festivals is being brought to the U.S. from July 28 to August 20 by OHMKara. "Gujarati Jalso", featuring Parthiv Gohil, Sairam Dave, Jahnvi Shrimankar, Gargi Vora, Manasi Gohil, Utkarsh Mazumdar, Minal Patel, Chirag Vora, Hiten Anandpara, Pranav Pandya and a team of 16 artists will be presenting an evening of Gujarati lok, sugam sangeet, short drama, poetry, literature and humor.
Hare Krishna Documentary Film Premiers
The event is to be held at 10 cities throughout the country, starting with New Brunswick, New Jersey, on July 29 at the Nicholas Music Center. "Gujarati Jalso" has already had three successful festivals in 2013, 2014 and 2016 in Mumbai and is now all set to entertain more than 10,000 Gujaratis in the U.S.
OHMKara has been promoting and bringing Gujarati heritage, language, music, poetry and literature to the NRIs through musical programs and has been successful in hosting the concerts with Parthiv Gohil, Gurang Vyas and Purushottam Upadhyay since 2014, along with other musical programs such as "Samanvay" in 2014, "Saat Suron na Sarname – Avinash Vyas Mahotsav" in 2015 and "Mor Bani Thangaat Kare" in 2016.
Gandharva Choir comes to Houston
You can visit www.ohmkara.org or call Pinakin Pathak at 609-610-1920 or Dr. Tushar Patel at 848-391-0499 or email him at tushar@ohmkara.org to know more about the "Gujarati Jalso" and book your tickets.
OHMKara's "Gujarati Jalso" 2017 Tour Itinerary
| | |
| --- | --- |
| Date | Location |
| 29-Jul | Nicholas Music Center, 85 George Street, New Brunswick, NJ 08902 |
| 4-Aug | Vaishnav Parivar of CT, 26 Church Street, Newington, CT 06111 |
| 5-Aug | Hindu Temple Community Center, 143-09 Holly Avenue, NY 11355 |
| 6-Aug | Stafford Center-New, 10505 Cash Road, Stafford, TX 77477 |
| 12-Aug | Georgia Institute of Technology Ferst Center for the Arts, 349 Ferst Drive, Atlanta,GA 30322 |
| 13-Aug | Walter Johnson High School, 6400 Rock Spring Drive, Bethesda, MD 20814 |
| 19-Aug | Community Christian Church, 1635 Emerson Lane, Naperville, IL 60540 |
| 20-Aug | Ford Community & Performing Arts Center, 15801 Michigan Avenue, Dearborn, MI 48126 |
By Premji